5 ways to save energy this winter
As the days begin to shorten and the temperatures drop, we are all starting to experience the effects of winter quickly approaching. As inflation hits its highest level in the last 40 years to cost of living is worsening. 

Energy bills are a significant outgoing or many, so it's important to get them under control.
Here are some simple energy saving tips: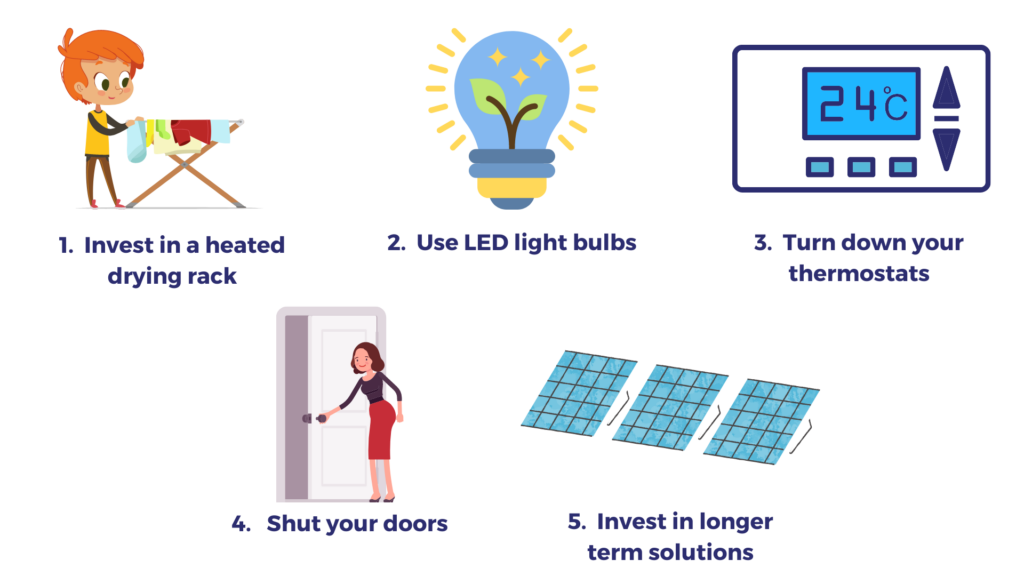 1. Switch out the tumble dryer for a heated drying rack 
Tumble dryers have been found to be one of the most expensive home appliances, as they can cost as much as £1.82 per hour to run. Switching to a heated drying rack is a much more cost effective option, as spending £40 on an electric drying rack only costs 7p per hour to run. Even though heated drying racks take around 5 hours to dry items this is still a saving of £1.47 per wash.
Example: 
For the average family of 4 people, they will complete around 8 lots of washing per week. If with each wash the family uses the tumble dryer, this will come to a cost of £416 a year, in drying your washing alone. However, if this family switches to a heated drying rack the yearly cost will be £145.60, even with the upfront cost of £40 the family will still save £230.40 annually. 

2. Switch to LED lighting
Lighting makes up 11% of your electricity bills, which is a big cost to your annual household bills. Making the simple switch of a 100-watt incandescent bulb for an LED would save £15 per year, considering how many lightbulbs there are in one household this can in fact produce a huge saving. LED bulbs cost on average £3 each, so you will get your money back on this in no time. Another benefit of energy saving light bulbs is that they last even longer than traditional ones, making their lifetime costs even lower!
3. Turn down your thermostat
One of the most simple but cost effective ways to save energy is to turn down your thermostat. For each degree that you cut on the thermostat, you can expect to cut your bills by roughly 4%, which is the equivalent of around £100 a year for a typical home. If you can try and make this conscious decision it will save you £ in your annual energy bills.
However, don't sacrifice your health; if you don't feel well or have health issues, make sure you keep warm.
4. Shut your doors
If you have the ability to draught-proof the doors within your house this can cut 2% off energy bills, saving £50 per year. This is effective as it traps and holds the heat in specific rooms meaning you do not lose as much wasted energy through draughts. Ideal Home has created a list of 10 effective ways on how to do this yourself in your home. 
But remember to ventilate your home well every so often so that you don't create other costly issues like damp and mould, or poor indoor air quality.
5. Longer term investments
Depending on your home, solar panels, ground source heat pumps, solid wall insulation and air source heat pumps are all very effective ways in reducing your household energy bills as well as reducing your carbon footprint. However, these are longer term investments as you may not see your money coming back until 5 years later or longer. These are great options for people looking to stay in their current property for a longer period of time. If you are interested in finding out more about solar panels read this blog here created by one of our colleagues based on his experience.
Propflo offer an exclusive deal where you can get £125 cashback if you use our referral scheme when installing solar panels. Check out our service page to redeem this offer.
Propflo is the digital hub for your home that helps you understand your property to save money, reduce bills and sell faster with less stress
Find and claim your home's online profile today!