Many people are interested in getting solar panels (and home batteries) at the moment. Having just moved into a new home in January, and rising bills on the horizon, we decided to get a 5.67 kWp system with a 5 kWh battery in April which were in installed mid-July.
It cost around £10k but now means we have no electricity bills and export a huge amount. In about 2 months, we've generated 1,072 kWh of electricity. An average home might use around 2,800 kWh per YEAR.
I'm really please with the system. I did want a smaller 3 kWh battery to optimise the return on investment, but supply chain issues and demand meant I had to go with a 5 kWh battery in the end.
Here are four areas I considered when getting this system.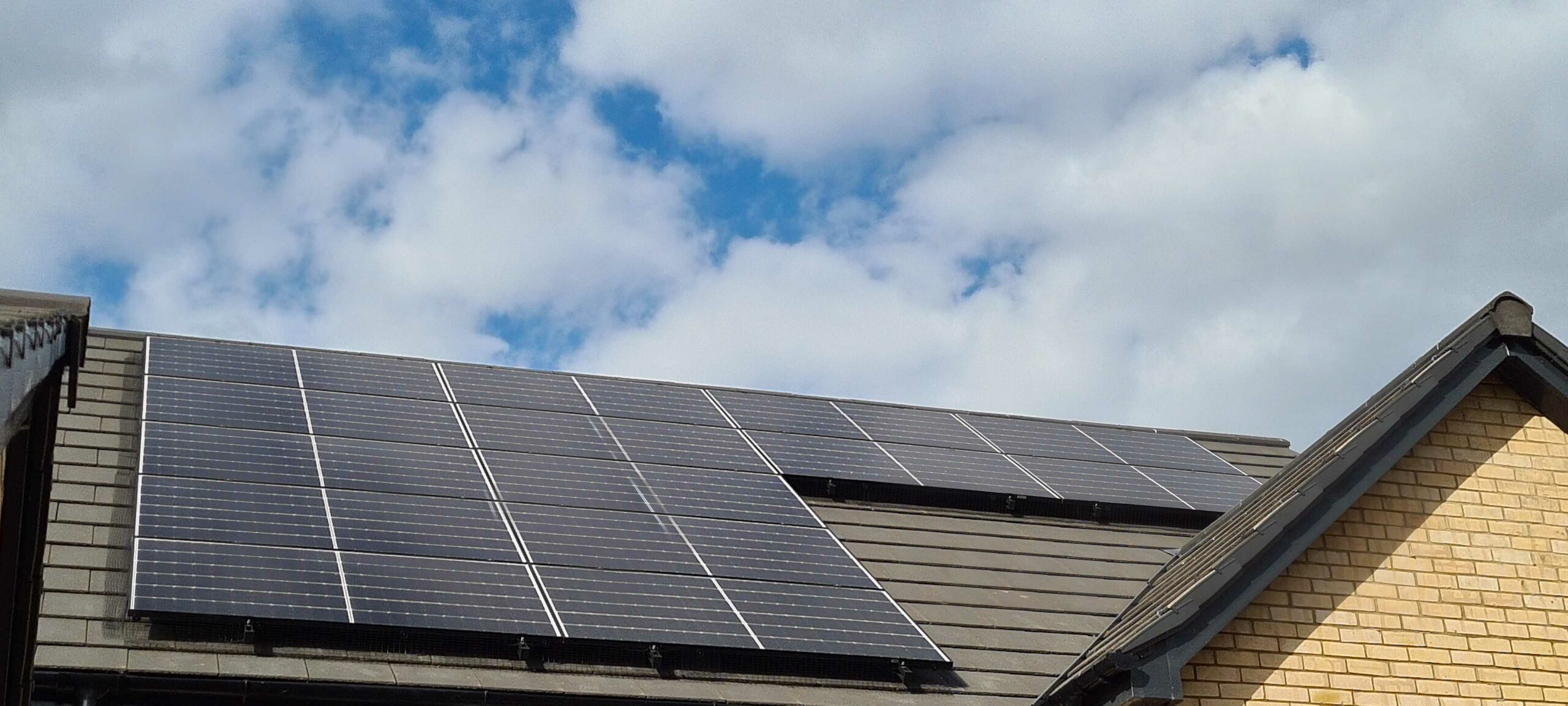 1. Understand all of the benefits
Firstly, you need to understand what you're trying to accomplish. If cash savings is your only consideration the payback could still be anywhere from 5 to 15 years. Not exactly mind-blowing.
You can have a look at the Energy Savings Trust online solar calculator here, but I also did my own spreadsheet incorporating low, medium and high probability scenarios of energy prices which was useful to give me reassurance about the payback. However, it was still around six to eight years which might be still too long for many people.
So, you really need to be sure on the other benefits to make it a no-brainer. Here are some of the areas I looked at when deciding on solar panels, and then whether to add a battery or not:
Home value – Money Supermarket did some research stating that a better Energy Performance Certificate (EPC) rating could add up to 14% to the value of your home. I would take this figure with a pinch of salt, but my bet is that it would at least add a couple of £k to the value of my home in future, which in itself makes solar panels and the battery a no-brainer.
More energy efficient homes are going to be valued more in future given that people will not be able to let out their properties below a rating of C from 2025, and I expect mortgage lenders will look at their portfolios and try to limit their lending to inefficient homes in order to meet their environmental targets. However, this isn't cash in your hand, it's capital in your home that you might not be able to access immediately.
Independence / self-sufficiency – funnily enough, we had a power outage a few weeks before we got the panels and battery installed which could have kept the power and the lights on in our home. It might be more relevant currently for more rural properties, but supposedly there are warnings of black-outs this winter. With more electric vehicles on the grid, this might be even more of an issue in future. However, this might cost a little extra for the electrician to 'island' your home.
There's also 'resilience' from market prices. Energy from fossil fuels are currently fuelling conflict and / or being used as a weapon. By increasing your self-sufficiency we're becoming less dependent individually and as a nation on countries that don't exactly share our values. This creates more price stability, stability prompts economic growth and more jobs, so everyone benefits.
Batteries are costly at the moment, but if you buy it with the solar panels you don't have to pay VAT, which helps!
The environment – climate change is becoming a greater risk to our planet, and it's closer than you think! But on a personal level, also to the value of our homes. See these interviews with ground (part 1 and part 2) and flood experts warning of more flooding and ground risks to properties in future.
Future proofing – currently there's slim pickings for exporting your excess energy, but there is a huge energy transition happening so that your home could trade your excess green energy to your neighbours for a higher price (but lower than what they currently pay). It is starting to become reality so again this links back to the future potential value of your home.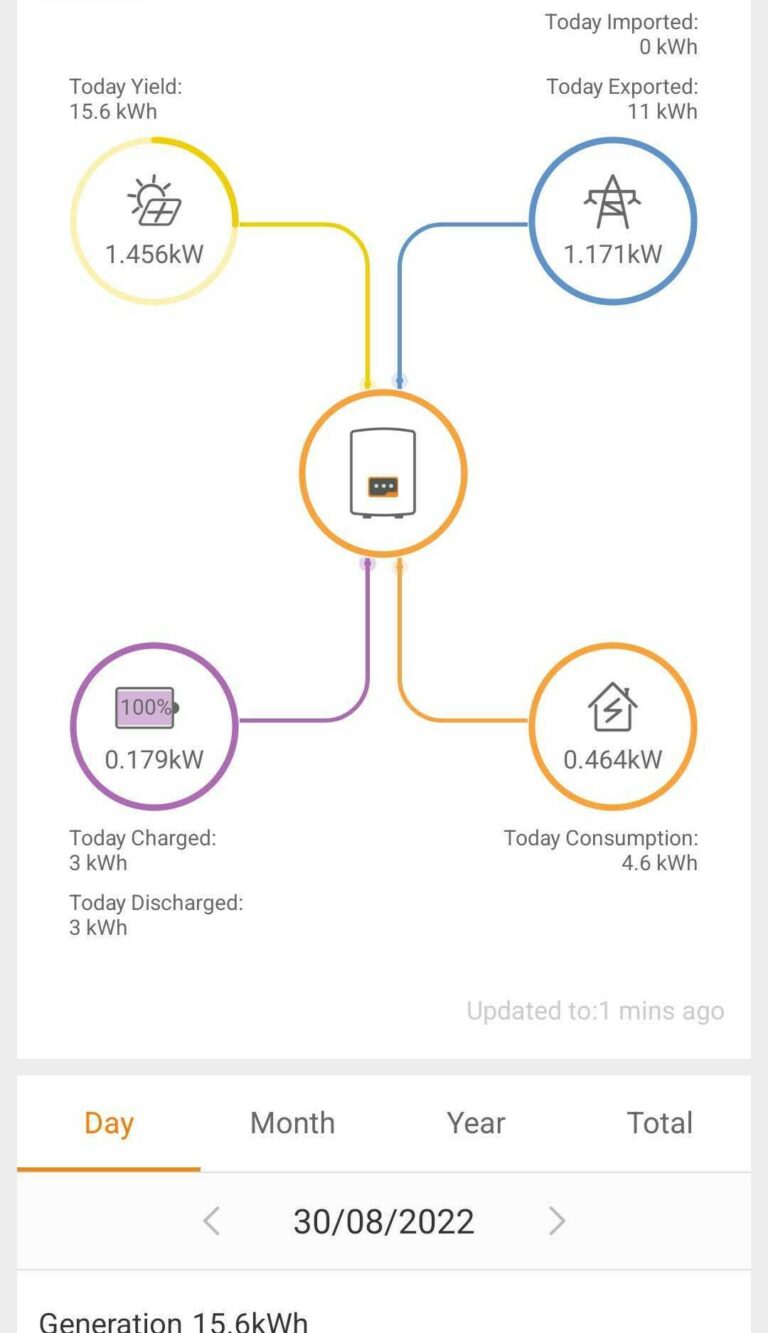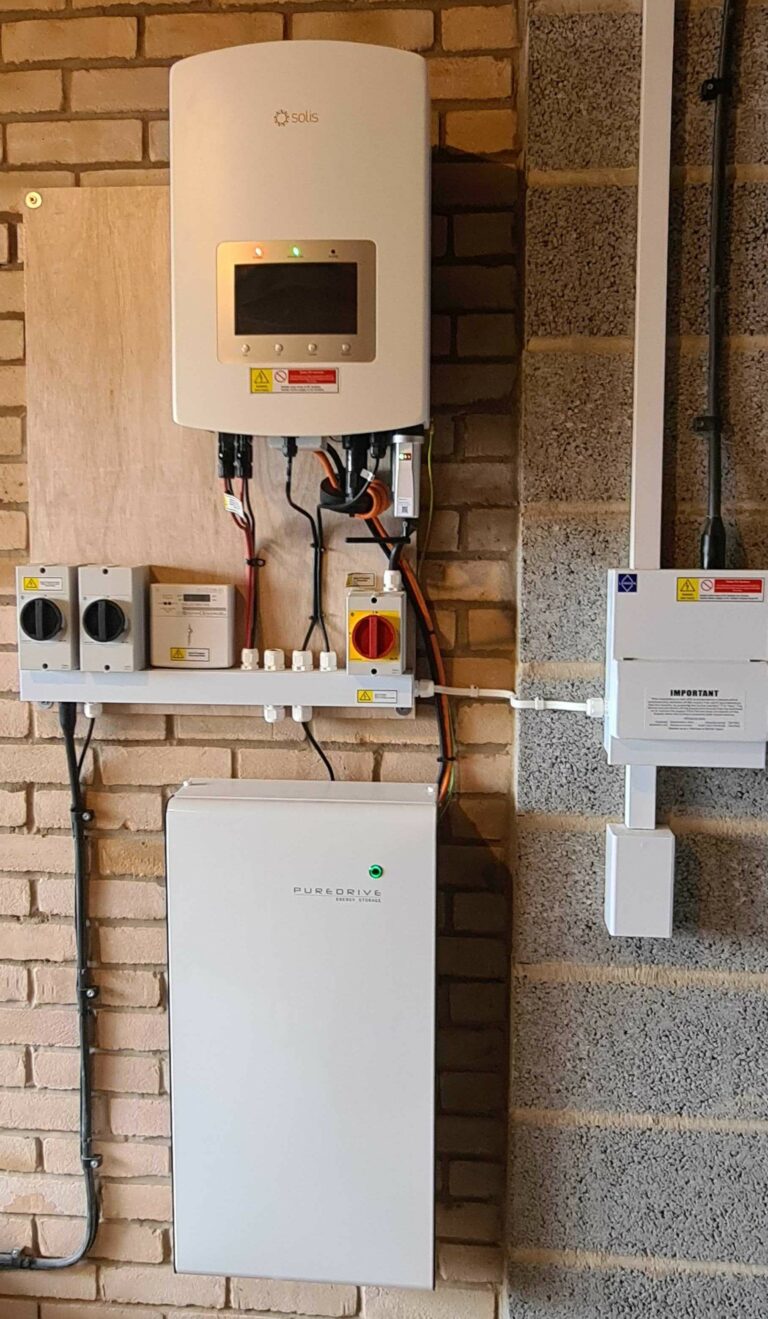 2. Who to use
I got a couple of quotes, but I went for Glow Green Ltd in the end with a quote of around £10k for a 5.67 kWp system and 5 kWh battery. Reasonable price and reviews seemed ok.
I think overall they were good given that the supply chains issues and increased demand at the time made their jobs very difficult, and I was (eventually) pleased with the end result.
However, you need to keep on top of them. The inverter (a key component) did not show up for the installation which meant the contractors couldn't really do a huge amount on install day.
They also sent the wrong roof hooks (they did a remote survey and thought we had slate, when we didn't).
They were also adamant that we couldn't have the inverter and battery in the garage (as it would need underground cabling and armoured cables), but luckily the contractor was local and said we already had it and it was actually easier to put it in the garage.
In my head I thought it would take three days, it ended up taking nearly two weeks with all the issues. But again, in the end I was happy with the result and to be fair Glow Green did respond when there were issues.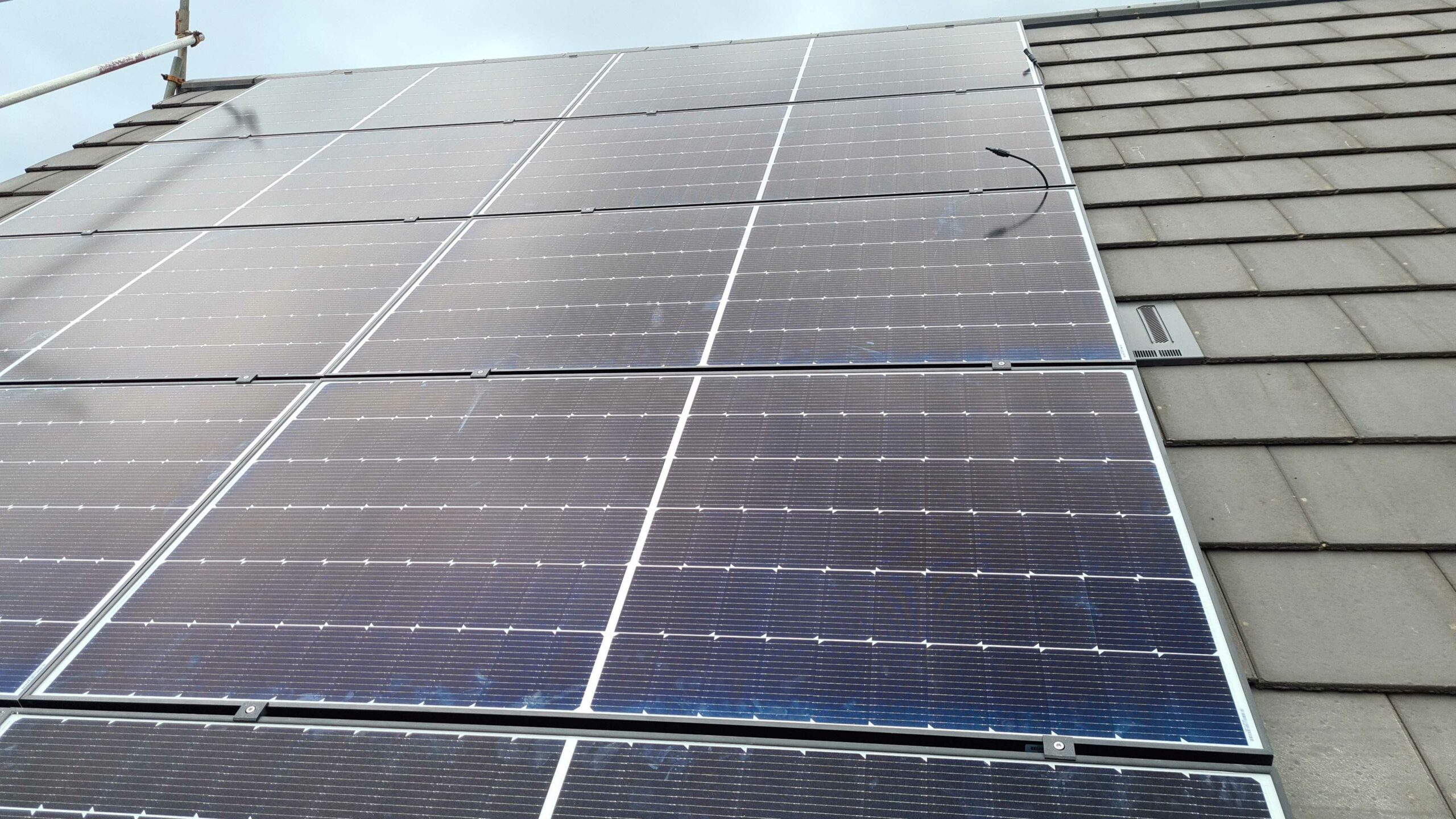 3. Practical bits
Roof orientation is important. The energy savings trust calculator can show you how the orientation of your roof can impact savings.
Roof shape and shading. We have a dormer so there is a little shading and also meant we had to be conservative with the number of panels. In the end, we could have fitted a few more panels on the roof.
Pigeon protection. Something usually not included but I'd advise you get it while you have the scaffolding up. Otherwise you might be driven mad by pigeons deciding to take up residence. Might cost £300-£500 extra, but potentially much more if you have to retrofit it later.
Location of kit. If you don't have a garage or it's not already connected to your property, then usually they put the inverter and battery in the loft, airing cupboard or outside near the meter.
4. Maximise the return on investment
You should try and use as much of your solar energy as possible as you don't get as much for exporting. Changing your behaviour is important but if you've got an electric vehicle or plug-in hybrid this will help, and also if you have a battery.
If you have a hot water tank, think about getting a solar diverter so that instead of exporting electricity you use it to heat your hot water instead.
Get a good deal on what you export. Many suppliers do not offer great export rates (British Gas is 3.2p for example), but there are some good deals out there for the Smart Export Guarantee (SEG). Octopus looks the best at the moment (4.1p or 7.5p if you are an import customer). 
About Propflo: Propflo is a property transparency platform powered by machine learning (a form of artificial intelligence). It was founded by successful proptech entrepreneur Luke Loveridge and geospatial and risk data scientist Dr Daniel Moyo. The business has a strong advisory team including the CEO of Yopa and ex-Purplebricks MD, Verona Frankish, and Dr Mike Tipping – a world-leading AI expert. Its lead investor, Ying Tan, is also an industry expert having built and sold one of the largest specialist mortgage brokers in the country.
Propflo supports homeowners, sellers and buyers with property scores, insights and services with an AI-first product road map.
Check what data people can see on your home, take control, protect its value