Eight steps to follow when buying a home
Buying a property is an exciting stage in life, but also one of the top 5 most stressful life events. Here at Propflo we want to make homeownership simpler and more transparent. The following are some steps to help guide you through the process of buying a property.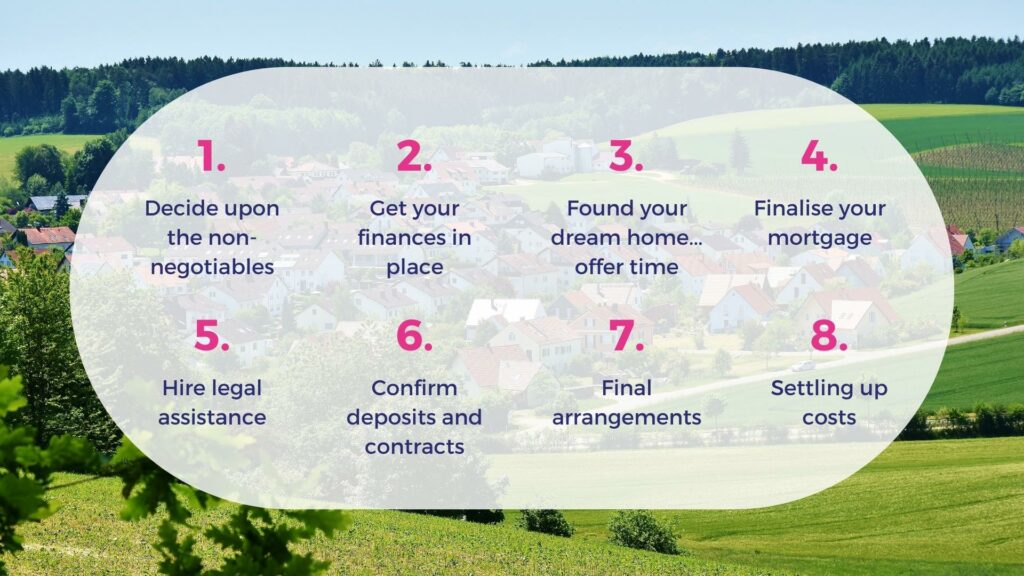 1. Deciding upon non-negotiables 
The first step in buying a property is deciding upon factors of your future home which are non-negotiable. This may be location, price, number of bedrooms, available parking etc. Once deciding these, you can then adjust your search accordingly and begin the hunt for your new home. 
If you know the address check the property score and report here to make sure there are no nasty surprises: https://app.propflo.co.uk/find-property
2. Get your finances in place
In the early stages of buying a property it is essential to assess your finances and work out how much of a deposit you can put down for a mortgage – especially if you are a first time buyer. Unless of course you are a cash buyer (lucky you!!). Whilst you cannot get a mortgage before you buy a property, alternatively you can get a mortgage principal put down, which in today's competitive housing climate will put you in a stronger position. Seeking professional advice is extremely helpful in exploring your mortgage options, here at Propflo our services page will connect you with a Mortgage advisor to assist you with any queries you may have.
3. Found your dream home, time to make an offer?
If you have been lucky enough to find a property you have fell in love with, then comes the time to put in an offer. To do this, get in contact with the estate agent and present the offer you are willing to make. Bear in mind you may have to pay a holding or reservation fee to reserve the property; especially for new build properties.
4. Mortgage time!
If you have already begun the process of sourcing a broker to lend you a mortgage then this stage should be a lot less time consuming! If not, now is the time to get it sorted ASAP! You will need to get the lender to make you a formal mortgage offer before you can exchange contracts.
5. The legalities
You will need to hire a solicitor/conveyancer to manage the legal documentation which you will need to formally complete the buying of the property. They will also need to carry out appropriate due diligence to make sure you (and the mortgage lender) are happy with any risks.
They will contact local authorities and other third parties like the Environment Agency to ensure there are no major problems with the property. We also recommend getting a survey against the property you wish to buy to make sure there are no hidden issues, reducing the chance of the sale falling through. 
Propflo's services page will match you with a conveyancer and guide you through the process of sourcing any necessary documentation. 
6. Deposits + contracts
In order to secure the property you will need to put down a deposit of typically 10% of the property's sale price. Once the contracts are signed (exchanged) between buyer and seller they become legally binding for each party to buy and sell the property.
This is where you will set a completion date in which you can get your keys and move in to your new home!
7. Final arrangements
In this stage you will need to sort out the transfer of ownership of all energy bills and your solicitor/conveyancer will contact HM Land Registry to inform them of the change of ownership of property.
8. Settle up your costs
As the sale comes to an end, your solicitor/conveyancer will settle up the charges from their end. You will also need to pay stamp duty, which we will explain more in the costing section of this article.
Stamp duty is now payable on properties costing more than £250,000, unless you are a first time buyer when the limit is £425,000.
Total average cost when selling a
225,000 = £31,800
| | |
| --- | --- |
| | 10 - 20% of the property. E.g. if the property is worth £225K you will put down £22.5K |
| | Varies depending on the cost of the property. For a home worth £225K you will spend £2000 on stamp duty |
| | |
| | |
| | |
| | 1% - 3% of the sale price. E.g. for a property worth £225K you will pay £4500 |
| | |
Your
legal team
will help with sourcing the necessary
documentation
to complete the sale, but here is an initial list of documents you need.
Documentation for your mortgage lender:
Utility bills

Latest P60 form

Last three months payslips

Passport/driving license

Last three months bank statements/ last 3 years if self employed

If you are self employed you will also need a

SA302 form

.

Council tax

Insurance policies

General living costs e.g. childcare, entertainment, travel costs.
Documentation for your solicitors:
Passport

Driving license

P60 or P45

Police/UK armed services/Other government ID card (if applicable)
Information to include/provide to the estate agent when making an offer:
Details of your mortgage offer, proving you can afford the property

Let them know the status of your chain 

Offer flexible moving date if possible

Details of your conveyancer/surveyor

Details regarding any building surveys that took place
Check what data people can see on your home, take control, protect its value